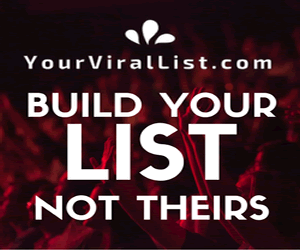 Building your own list of people that you can then begin to build a rapport with is absolutely the best way to find success on the internet. Normally this starts with an auto-responder service but that can be both expensive and daunting to learn. This is why I started out with what are known as Safelists and Viral Mailers where you can learn how to write better emails and test your results before even thinking about paying for an auto-responder service.
Recently Matthew Graves from Web's Best Marketing launched a site built for those of us who like to use free traffic in the way of Safelists, Viral Mailers and Traffic Exchanges called Your Viral List.
This site is perfect for building your list and then later when you can afford an auto-responder service your list will be integrated into it and all the work you did will not be lost.